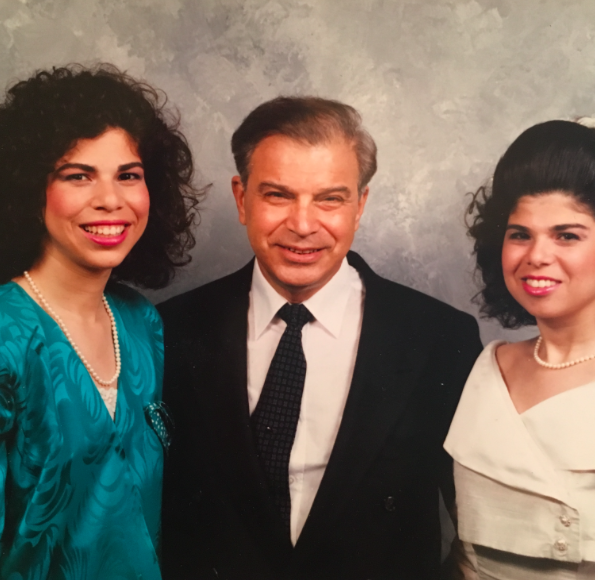 I get a free subscription for This magazine because I've contributed stories in the past. I'm always excited when it arrives in my mailbox because there is often a byline from at least one of my talented writer friends. What caught my eye in the last issue though was a review of Julia Cooper's book The Last Word: Reviving the Dying Art of Eulogy.  
I haven't read it but I'm going to look for it. It seems to be making a case against the typical clichés people resort to in honouring their dead. Writing eulogies is tough. It's not easy to think clearly when one is consumed by loss. Yet, the deceased need to be honoured and laid to rest in the right way. Words matter. A lot.
My dad's funeral was exactly eleven years ago today – June 8, 2006. I have lit a candle to remember him. I also re-read the eulogy I wrote, which I've pasted below. I don't know if this is the final draft (I just retrieved it off my old computer, and last looked at it when I read it at the service).  In any case, it's final enough to share memories of my dad with you.
I miss him.
My Eulogy
The last thing I learned from my Dad is that happiness comes in different wrappings. The past few months were very happy months for him. He told us many times that while he wouldn't have wished for cancer, it did open his eyes wider to his wonderful family. We came together in a way that made him proud, and we'll continue on in the same way.
My Dad taught us a lot about life, but never more so than this past year. We learned what it means to live life to the fullest, to never give up, and to find joy in everything that you do.
He said that if there was one thing he wanted to be remembered for it was, "I tried'. For sure he wasn't a saint. He made curious choices at times, didn't always have the best read on a situation, and could wear you down by having to understand in excruciating detail your point of view. But he had this energy, this intensity, this insatiable curiosity – and these qualities overshadow all the rest.
I can think of nothing my dad was lukewarm about. Nothing was too trivial to catch his attention. Figuring out how to make cheese for Micah's Grade 3 Science project was as important to him as figuring out complex computer problems. I remember last year he came to watch Jake's soccer game on his way back from California where he first fell ill. He was clearly sick, and it took a real effort for him to be there, but within 5 minutes he had the game analyzed – what was working well, who the best players were, what mistakes they were making. I was still trying to figure out which net Jake's team was shooting on.
Like any good parent he appreciated our unique gifts. While Anita would only concede to studying somewhere in the States, Dad insisted on giving tours of Yale to anyone who even showed the slightest interest. He was intensely proud of her squash, and her academic and professional career. After every one of his many moves, the picture of Anita on the Yale squash poster was always in plain view.
I was treasured for other things. My sarcastic wit, my ability to wrap him around my finger (his words, not mine), and for producing two of the most wonderful kids on the planet.  He loved Jake and Micah, and told me often what great kids I have. He had a sparkle in his eye when he looked at them. They had an opportunity to visit him more this year, watch old family movies, learn chess, and a bit more about his life and travels. He seemed most happy with them at the cottage, letting them drive the boat, explore islands, and experiment with sharp axes – something I don't remember him letting us do.
I learned by observation the joy and worry of being a parent, and unfortunately that your kids are never too old to worry about. During an extended visit last year, I thought I would go to the folk festival one evening. But when Dad discovered I was going by myself, he seemed very concerned that this was not a good idea, since "Girls have been known to disappear". A "girl" at 44. I skipped the folk festival and went for a walk with my mother-in-law instead.
He was like a father to Julie too. After he and my Mom settled in Montreal, Julie, my grandmother, and my great-grandmother followed shortly after. Both Julie and Dad take great joy in knowing the foundation they created for a close-knit family, many of us born on Canadian soil.
While my parents made the decision to no longer be together, they did still very much care for each other. On Monday, he phoned my mother twice to make sure her partner, Sonny, who is in hospital, was O.K. and made a point to my sister last weekend to ensure that my mom was well supported through this period of her life.  My Dad always believed in my mother's generosity and devotion to family. She was genuinely concerned during his illness, and baked him cookies and choci calasz to show him how much she cared. My Dad developed quite a sweet tooth this past year and he loved that choci calasz. I know this time is hard for her. I want her to know, for both of them to know, that we always felt loved.
While their time together was too short, my dad's lovely partner, Marietta, gave him tremendous happiness. Our heart goes out to Marietta who has become an important part of our family. While they were robbed of more time, they should have no regrets about using the time they had to the fullest. They traveled to Europe, the States, Western Canada, and were always 'out' – at a concert, at a restaurant, with friends.  It was tiring trying to keep track of them.  Like I said at his 70th birthday party, it was nice that my Dad was finally growing up, moving into his own house, and settling down with a cool girlfriend. They made John and I look pathetic by comparison, and seemed baffled we didn't get out more.
He had a good life, and a colourful one. His work took him to far away places in the developing world – Albania, Egypt, India, Thailand, Sudan were just a few of the places where he led the implementation of information management systems for the United Nations Development Program. Work was a big part of his life, and it was one of the things that kept him going, and for certain gave him many more months to live. He developed an invention for a novel way to analyze and monitor changes in an information system and spent hundreds of hours devoted to a complex project that tested his intellect, his energy, and his focus – and he passed with flying colours –we were all impressed.
Anita and I closed the cottage with him last fall  – the place he loved most in this world. He told us many times what a fantastic weekend it was. While we were there, I told him, "I'm lucky to have a Dad like you". He said, "We are lucky to have each other".
We are lucky to have had my Dad in all of our lives. He gave us many colourful memories – let's cherish them together.
Previous:
My Happiness Project
Next:
My Riverdale: New York Cafe