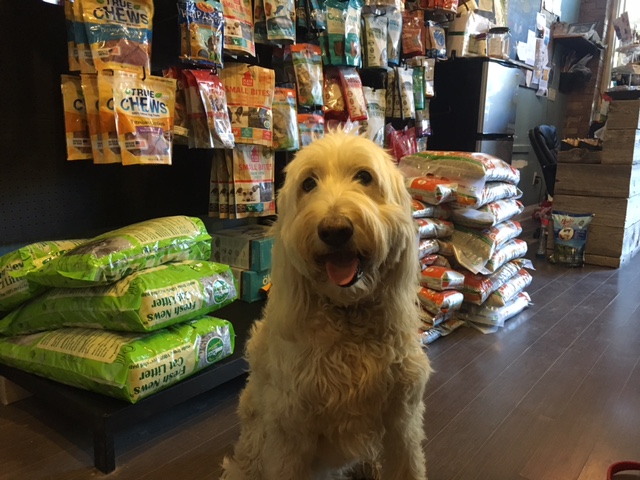 Every member of my family has a favourite store in our Riverdale neighbourhood. For John, that is hands-down Book City where he routinely pops in to buy the New Yorker, the Economist and Downbeat. It doesn't matter that he is paying quadruple the price to buy it off the shelf rather than via a subscription. He gladly pays for the tactile experience of a bookstore.
When my boys are in town, Micah likes Ali Baba's especially on Tuesdays when the falafels are half price ($6.00 for two, which is like 1950s prices and suits his student budget). Jake used to love The Meat Department until he became a vegetarian and now shops for tofu at The Big Carrot.
I have too many favourite stores to mention but the most important member of our family, Jessie, likes Petey's Grooming & Treats. I profiled them recently for one of my business stories for Yellow Pages. I needed a "model" so that is Jessie in the header photo. Is she not the prettiest girl you've ever seen? She was also really happy because owner Petey insisted on giving her a handful of liver treats for our walk home.
Here is their story:
A Huge Animal Lover Opens Shop
Store owner Peter Evangelou grew up in Riverdale, so he's witnessed it change throughout the years. "I was in Riverdale before Riverdale was Riverdale," he laughs, referring to how gentrified the neighbourhood has become since his childhood. Now the happy owner of Petey's Grooming and Treats, he recalls how he used to pass the now-pet store every day. "It was always a variety store but none of them ever lasted."
Continue reading the story of Petey's Grooming & Treats
Previous:
Want to be a better partner? 5 questions to ask yourself right now.
Next:
Why My Husband and I Decided to End a 25-Year Relationship