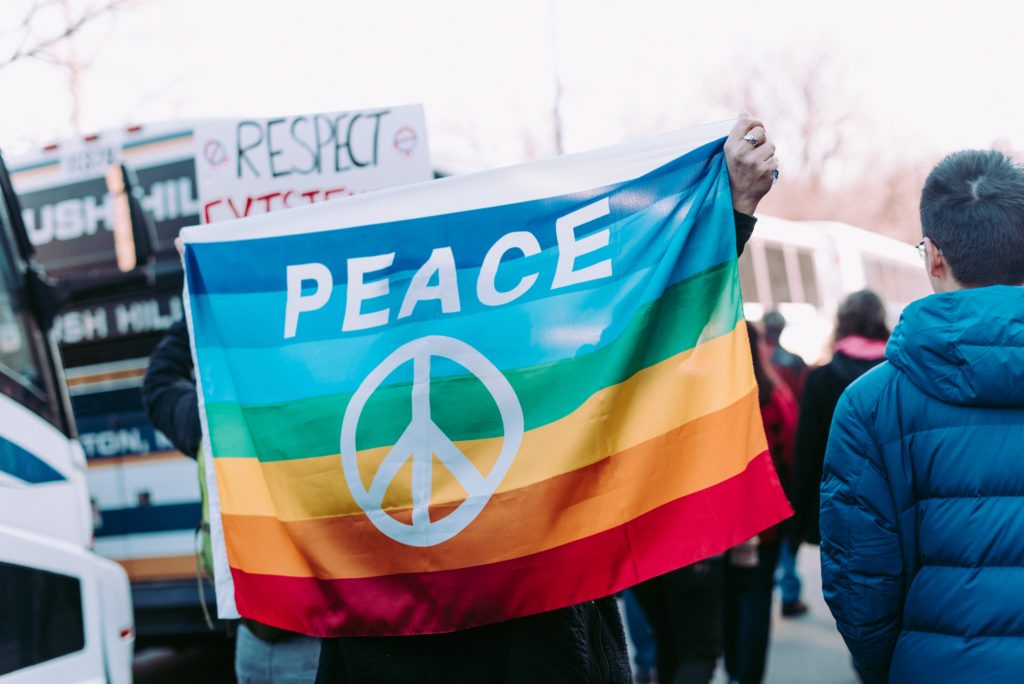 There are two kinds of people when it comes to dealing with injustice. The first kind are people like me who get so angry they want to bash something or drink themselves into a stupor. Since I'm not a big drinker I took up kickboxing a couple months ago. Every Monday night, I strap on gloves at Riverdale Fitness and beat the shit out of a boxing bag.
At the risk of bragging, I have picked up kickboxing really quickly. I can even do complex sequences—jab, cross, hook, body, body, front kick, roundhouse. Honestly, it helps to be motivated by seeing Donald Trump's face on the boxing bag. Endorse Roy Moore. POW. Spread (even more) Fake News. POW! POW! POW!
The other kind of people are optimists. If they kick box, it's more for fun and less about releasing their pent-up aggression. These are the people who tirelessly keep fighting against injustice and manage to remain warm-hearted and funny at the same time.  I had the opportunity to see this up close on Monday when I ran into Matthew Behrens.
Years and years and years ago, John successfully represented Matthew, a human rights and social justice activist. During the Mike Harris years, Matthew and other members of Toronto Action for Social Change (TASC) had the temerity to plant a vegetable garden under the Premier's window to protest his policies. This led to a mischief to property charge. On another occasion, one Martin Luther King Day, Matthew threw "blood" on the legislature building.  The "blood" was theatrical blood which is water soluble.
The thing about Matthew's protests is that they never harm people or property, but they often make for good theater (Matthew and his lovely partner Laurel run a theater company in Perth). Matthew often dresses in costume to protest—like as Santa Claus a couple Christmas' ago to lobby the Immigration Minister to reunite an Indian boy with his Canadian immigrant parents. Reuniting mother and child would have been a lovely present for the minister to deliver.
So, I was really happy to find Matthew (dressed as himself) in a cluster of protesters on the steps of Quebec's Court of Appeal earlier this week. I was tagging along with John (I take a few field trips now and again) who was arguing against the extradition of a woman from Georgia who had "kidnapped" her children and fled to Quebec to protect them from an abusive father. (For you legal geeks, here is the story and previous Supreme Court of Canada decision. John intervened for the CLA). Matthew and his committed band of fellow activists were there bright and early in the freezing cold, with bilingual placards, to show they believe women survivors.
John and Matthew are not always on the same side. For example, Matthew is vocally opposed to the secrecy of the special advocate process. John is a special advocate, one of the very few people in Canada who reviews evidence that the government deems to be a threat to our national security, if it were made public. The fact that the evidence is not even shared with a defendant's lawyers makes Matthew very unhappy. It's a bit ironic that they are opposites on this matter, given Matthew was the person most instrumental in launching John's specialization in national security law. Yet, as their professional lives continue to criss-cross (and sometimes collide) they remain fiercely respectful of each other's mandate.
After the hearing, John and I were talking about what a treat it was to see Matthew again. John said, "I know of no one who listens more respectfully. A rare quality among people with strong opinions." Although polemical as a columnist, Matthew overflows with warmth and humanity in person.
We need more people right now who do more with their anger than punch a bag. We owe a huge debt to peaceful activists like Matthew who fight tirelessly without compensation, and with the risk of arrest on behalf of the very most disadvantaged people. And if our own social activism is limited to whose name we check on a ballot box, we'd be wise to take the time to lend our eyes and ears to these activists' perspectives. They make us smarter about the choices we make in a democratic society.
Photo by Alice Donovan Rouse on Unsplash
Previous:
When Should You Say "I Love You"?
Next:
Girls Just Want to Have Fun (And Work Less in their Relationship)