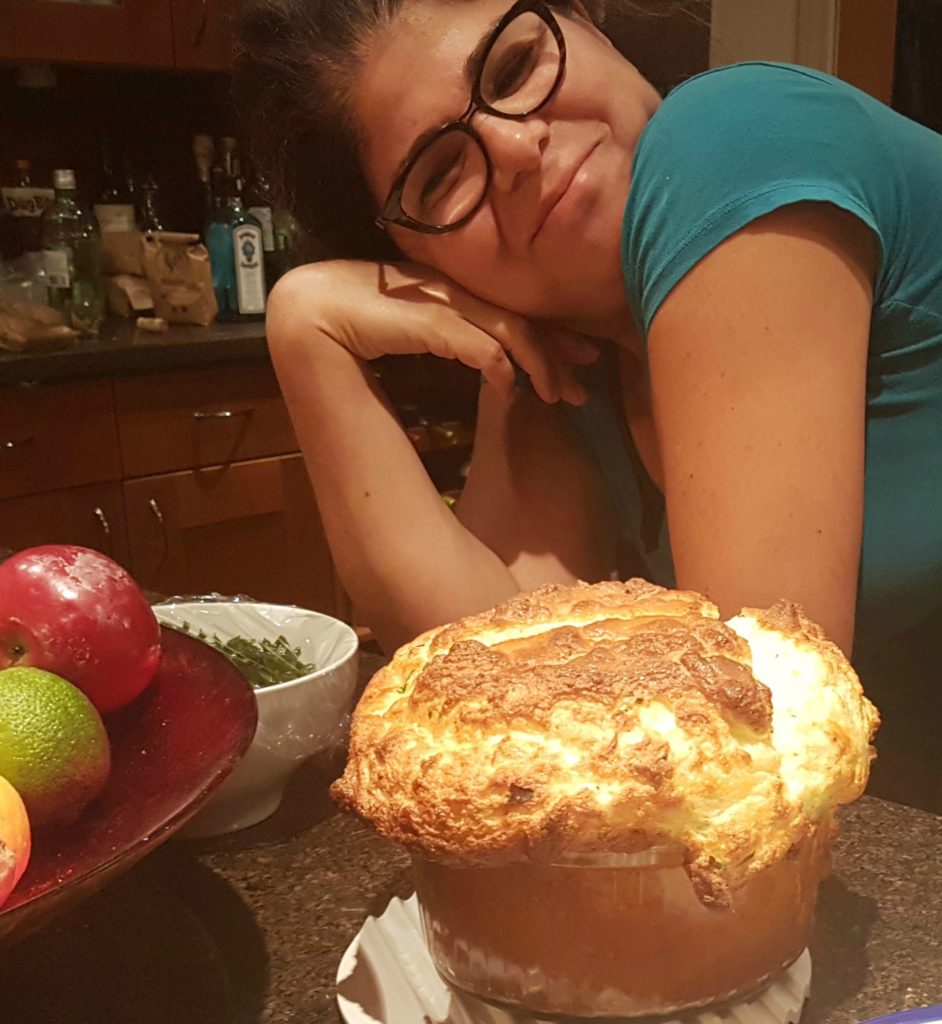 It's Wednesday night. John is in PEI so it's just the dog and me. I don't feel like cooking. I rarely feel like cooking for myself. But when it comes to my family, I make award-winning dinners even on school nights.
Monday night, I made a soufflé that was the best I've ever done. Here is the recipe (I added shredded gruyere and green onions). Not to brag but see how high it rose beyond the rim of the soufflé dish! Its crown was perfectly crisp and brown while the centre was moist. I also made a kale salad with roasted pecans and strawberries, drizzled with olive oil and cranberry pear vinegar. John has been working long hours so we ate at 10 pm. Fashionable even by wannabe European standards.
Last night, I made seared scallops with tarragon and orange sauce (over a bed of wilted spinach) from Lucy Waverman's "A Year in Lucy's Kitchen." I couldn't find you the recipe on line but here is another one that I've made in the past that is really good (but too much work for a week night). I also made a variation of the kale salad from Monday night (with dissected grapefruit) and ravioli stuffed with butternut squash with a lemon-cream sauce. The ravioli was packaged but everything else was from scratch.
So, tonight I'm contemplating take-out options (don't judge me). I feel like oxtail roti and I know just the place. Caribbean Dutchpot is close by and very good. Last year I wrote a profile of the owner. Here is her story.
Jamaican Home Cooking
Growing up in Jamaica, Inez Gayle spent a lot of time by her grandmother's side. "My mom worked so my grandma took care of me, my five brothers and seven sisters," she recalls. "She could cook! She taught me basically everything, like how to make curry goat."
Inez's family lived off the land, planting their own vegetables and raising chickens. When Inez moved to Canada in 1988, she still felt close to food and made a huge family dinner during her first Christmas. "It was a normal Christmas dinner that West Indians like – turkey, stuffing, fish, rice and beans." Her aunt was impressed and told her she should open a small restaurant. Inez recalls telling her, "I don't know if I can do it."
Continue Reading
Previous:
My Ottawa: Norde Bridal
Next:
Returning to Our Roots