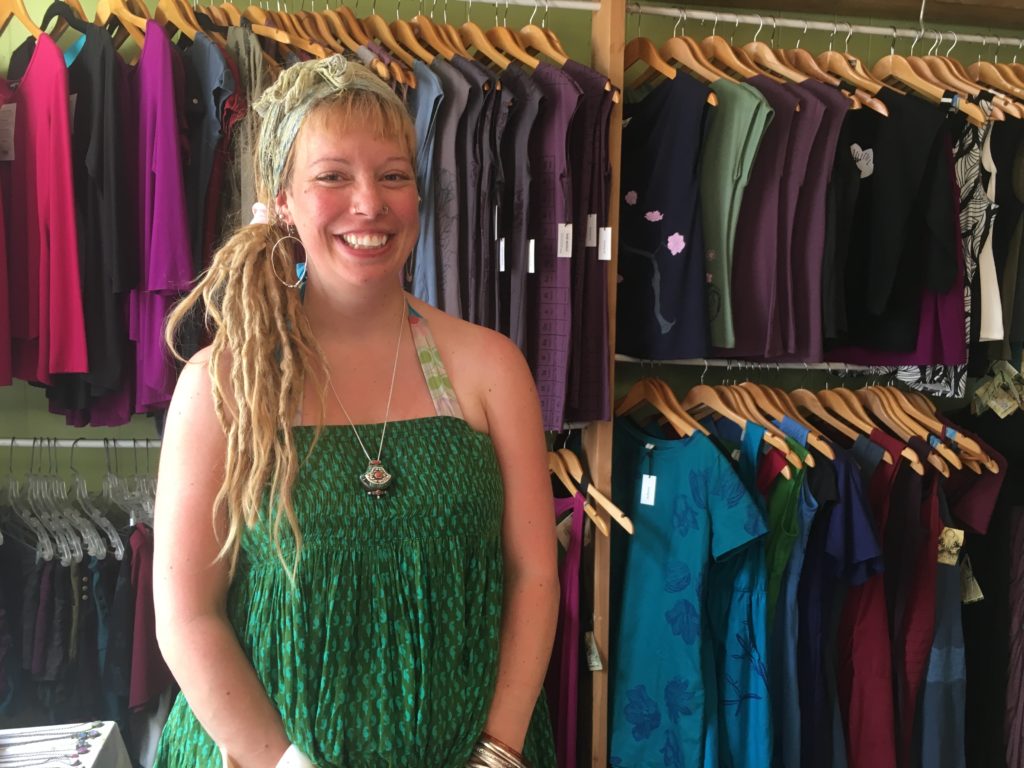 Last month I went on a little field trip to Ottawa, my home town, to write a few profiles of business merchants in the ByTown Market area. I loved meeting Emma Inns, the owner of Adorit Boutique. She only sells clothes that are kind to our environment and the people who make them.
Emma has a very informative blog which certainly opened my eyes to the damage the clothing industry is doing to our planet. Here are some quotes from her blog (which is really informative and well-written):
– The Fashion industry is the second most polluting industry
– 80 billion pieces of clothing are consumed around the world. And 3 of the 4 garments will end up in the landfill or an incinerator
– Since 2000, there has been an 'explosive expansion' in fast fashion led by the brands H&M and Zara
– The average person buys 60% more items of clothing and keeps them for half as long as 15 years ago
It was difficult to leave Adorit empty-handed.  I bought a really cute purple t-shirt with an octopus print..just doing my little part for sustainability.
Here is Emma's story.
A Business of Compassion
Emma Inns, owner of Adorit Boutique, says that travelling to India after high school "changed my life." Deeply affected by the plight of the Tibetans, she decided to use her own good fortune to bring kindness and compassion to others.
Emma came back to Canada to earn a degree in tourism and then returned to Tibet as a tour guide, saving her money to set up microfinance programs in Tibetan communities. "The concept was to take traditional crafts and tweak them to make them marketable to the Western eye," she explains.
Returning to Canada once again, Emma opened a stall in the ByWard market where she could selling the Tibetans' crafts. These items, including puppets and handbags, were made with the same felting process used to make traditional aprons for Tibetan women on their wedding day. "It was great," Emma says, "but I realized that if I only sold Tibetan stuff I would be hungry."
Photo: Emma Inns
Previous:
On Becoming a Gym Rat
Next:
Doing Stranger Things in Bed