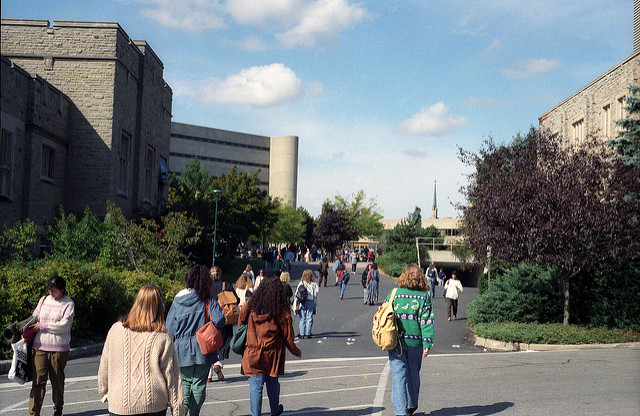 Jake started graduate school this fall at Western. This was the same university where John and I met as grad students in the 1980s. I offered to drive him to his new apartment in London, which is a few blocks from where John and I lived all those years ago.
I have been to London a few times since graduating. We did the odd road trip for basketball tournaments when the boys were playing competitively in their youth, and also a tour of the campus five years ago when Jake was checking out undergraduate options. But this time I was hit with nostalgia as Jake was making a more permanent home for himself in a city John and I once knew.
Jake texted a photo of his new student card, which looks eerily similar to John's old one. There is more than a family resemblance. Jake was in an electronics store a few days after arriving in London. At the counter, he gave his first and last name to the sales clerk. An older guy beside him tapped him on the shoulder and asked, "You wouldn't be related to John Norris would you?" Jake replied, "Yes, I'm his son."
The man (someone we haven't seen for 30-odd years, nor kept in touch with) probably felt like he had seen a ghost. The last time he saw John was when he was around Jake's age. But I was seeing ghosts too, everywhere I drove Jake. It was hard not to be transported back in time with the physical prompts of the same streets and the same campus. Not much has changed but of course everything has.
After I dropped Jake on campus, I headed to lunch with an old friend from grad school who is now a prof at Western. Standing in line at a cafeteria-style middle-eastern restaurant, I noticed three young men beside us wearing bright yellow frosh t-shirts emblazoned with "Saugeen-Maitland," the residence I lived in as an undergrad.
"Saugeen-Maitland! I lived there forty billion years ago," I said by way of an introduction. Rather than give me teenage vacuous looks of "who cares," these young men immediately engaged with me. They assured me that Saugeen-Maitland is now tame compared to the good old days when we called it "the zoo". "There were police and ambulances in front of Medway last night," one of them offered as proof that Saugeen-Maitland has gone soft.
Before they left with their trays of falafel, one of them asked, "Do you have any advice for us?"
"Yes. Yes I do," I began. "If you're not enjoying your studies, take that as a sign you may be in the wrong program. Don't be afraid to switch. It's never a waste to have invested the time figuring out you may be better suited to something else."
I had given similar advice to my younger son Micah in a launch letter I wrote and tucked into his suitcase three years ago as he headed off to Queen's as a frosh, like these young men: "Pursue interests with passion, go down new roads that look interesting, and be prepared to hit many dead ends—that is all part of the fun. I hope you never feel that you have arrived because where does one go from there?"
The three young men shook my hand, and slowly walked away.
Photo credit:Flickr/LarsPlougmann
Previous:
My Aunt and Uncle Just Celebrated Their 50th Anniversary. How Did They Do It?
Next:
No Refuge for Refugees