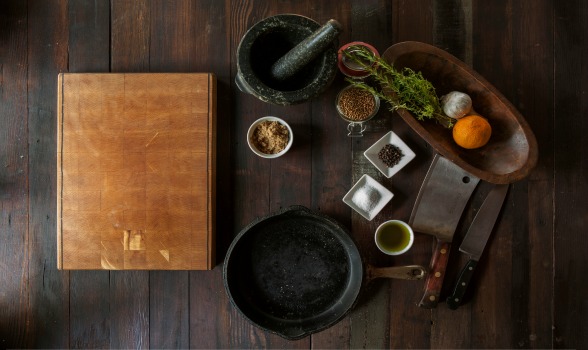 If you've been keeping up with my blog posts, you know that I'm taking a magazine writing course at Ryerson. John has started to call me "Summer" because I'm so keen it's become obnoxious (if you don't get the reference, see video below from the movie "School of Rock").
So the latest assignment was to interview an expert about how they do something. My friend Marla had suggested going to Crate, a new tapas-cocktail bar, a few weeks ago. At the end of our meal, head chef Ray O'Shane, came by to chat. He mentioned he was in the process of perfecting patties as their signature food item. I jumped on the opportunity to ask whether I could come back and watch him cook one day.
Well, it was a blast. He was lovely and gracious, and answered all my questions. For my Toronto friends, definitely check Crate out (Queen St. E., east of Greenwood). You will be hearing more about this up-and-coming chef, no doubt. He has talent, discipline and passion.
So, while this week's post is a major diversion from my normal writing, I thought you'd enjoy a bit of local flavour. Oh, and did I mention I got an A+ on the assignment? Ok, I'll shut up now.
Crate Chef Ray O'Shane Makes Patties A Destination

Ray O'Shane's love of cooking began as a kid watching his mom make Sunday dinners in Jamaica—big pots of rice, curried chicken, dumplings. When she finally let him into her kitchen when he was eight, it was to fry eggs." It was horrible," he laughs now. "Puffed up, and a broken yolk. My mom joked about it for a week." But when O'Shane moved to Canada four years later, he put his early culinary failure behind him, rising quickly from a dishwasher at a Brampton golf club, an apprentice cook at Canoe, to sous-chef in Muskoka and Vancouver.
Now at 24, O'Shane is head chef at Crate, a cozy tapas-cocktail bar on Queen St. E. that opened in June. His original menu included popular fare like bison sliders, charcuterie board, and mushroom risotto but "still felt we were missing that one thing that would make Crate a destination." He decided to embrace his heritage and introduce Jamaican patties—but with a twist.
On a recent afternoon I drop in to watch O'Shane prepare his patties. He literally wears his passion on his sleeve as his arm is an elaborate mosaic of "food" tattoos—artichokes, lemons, snapper fish, including his first chef knife. He is poetry in motion as he prepares the dough for his patties. First, he mixes several cups of flour seasoned with salt, turmeric, curry powder and a hint of cinnamon into a large metal bowl. He deftly works in the butter with his fingers, then adds vinegar, whole eggs, and water at once. Within moments of kneading, the dough comes together in a perfect shiny ball. O'Shane gives it a poke, and watches it spring back to confirm the right elasticity.
As the dough chills, O'Shane describes how he prepares the chicken filling. He seasons a whole chicken inside and out with an organic spice rub of coriander, cumin, and cinnamon. He explains in his soft Jamaican-infused lilt, "I'm banking on my spice rub." He confits the spiced chicken in vegetable and duck fat which is "not normal for Jamaican recipes, but I love duck fat." After it bakes for an hour, O'Shane shreds the chicken and sautés it with more spice blend, onion, garlic and jalapenos.
O'Shane retrieves the chilled dough and rolls it into a large circle with a wine bottle. "My roller's broken and haven't had a chance to get a new one so going back to the old Italian grandma tradition." He quarters the circle, brushes the perimeter with beaten egg, and places the filling on top. After folding the dough over the filling, he crimps the edges with a fork. His labour yields just 21 patties that are sold for two dollars apiece.
The healthier way to cook the patty is baking, "but everything fried is better because of the flaky moist sexiness." He offers me a patty hot from the fryer to sample. The crust is sweeter and the insides more savory than regular patties, and they are a more delicate size. "Lots of love goes in to make sure they are beautiful," O'Shane declares.
O'Shane's mom, who still lives in Jamaica, no longer laughs at his culinary skill. "Every time I post a picture on Facebook, she say it looks amazing and wants to try it sometime." O'Shane hopes his patties will draw people from far and wide. I hope his mom is one of them. She should be proud.
Photo credit:magdeleiene/Todd Quackenbush
Previous:
A Dream About My Mother
Next:
How To Grow Intimacy Through 10 Ordinary Day-To-Day Practices (Guest post for eHarmony)